Joined

Jun 7, 2015
Messages

20
Reaction score

0
Location
Hi -
Without any warning at all, our bathroom sink drain suddenly became fully clogged. I tried plunging and although a bunch of black muck came up into the sink, I haven't been able to clear it.
So I tried with my auger, but I am pretty sure I'm ending up going up the vent. The auger came out way too clean, and the main drain pipe this ties into is only about six feet away.
There is no slip joint where the pipe goes into the wall, so I can't see which direction the auger is going and I can't guide it.
I would have resorted to trying Instant Power Hair & Grease, but there is no water movement for it to get down to the clog.
Any advice for how to proceed?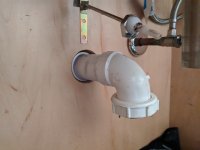 Thanks.
Mike